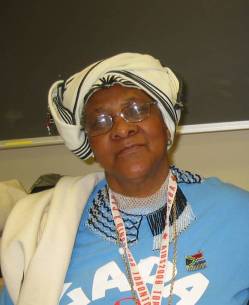 How We Got Our Name

FOUNDING MEMBERS Anne Philpot and Theresa Randles both attended the August, 2006 inaugural Grandmothers Gathering in Toronto, the first ever of its kind, Anne as a registrant and Theresa as a volunteer. 200 Canadian women joined 100 grandmothers and others from Africa, for a weekend that was the most spectacular gathering either had ever attended.

In one of the workshops Anne attended, Alicia Mdaka, from Grandmothers Against Poverty and AIDS (GAPA) in South Africa, told her personal story. When Alicia's first child died of AIDS Alicia was heartbroken and so devastated she didn't know how to go on - but she did. When her second child died of AIDS she said she didn't want to live any longer. But then she realized that she now had her grandchildren to raise. Soon she started to talk to other women and found that she wasn't the only mother who had lost their adult children and now cared for grandchildren. They formed the first support group at GAPA, and found scraps of materials and items to make crafts - they didn't just gather to make crafts but more importantly, she said that 'when women sit and work together they TALK'. They shared their stories, burdens and worries and began to help each other. She summed up her story by saying, "and then together, we became strong, like grandmothers of STEEL".

The month after the Grandmothers Gathering in Toronto, September, 2006, Grandmothers of Steel was formed in Hamilton. As a member group of the Grandmothers to Grandmothers Campaign of the Stephen Lewis Foundation, our mandates are to raise awareness and generate support for the work of the grandmothers in 15 African countries hardest hit by the HIV/AIDS pandemic.


---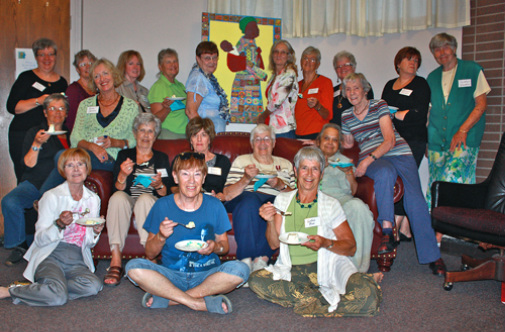 To date, we have about 35 active members.

We meet monthly and focus on various initiatives, involving education, and fundraising activities. Guest speakers/films provide ongoing education around HIV/AIDS in Canada and Africa at our monthly meetings. Committees provide ways for members to contribute to our group's goals as well as providing the opportunity for members to get to know and care for one another.

We speak to groups in the community and welcome opportunities to tell others about the work of the Stephen Lewis Foundation and the Grandmothers to Grandmothers Campaign.

We fundraise in a variety of ways.

We are open to ALL women: we are students, married, single, aunts, mothers, grandmothers, and great-grandmothers








---